lifestyle
Aug. 22, 2021
KABELO MASOABI
Nteko's art speaks volumes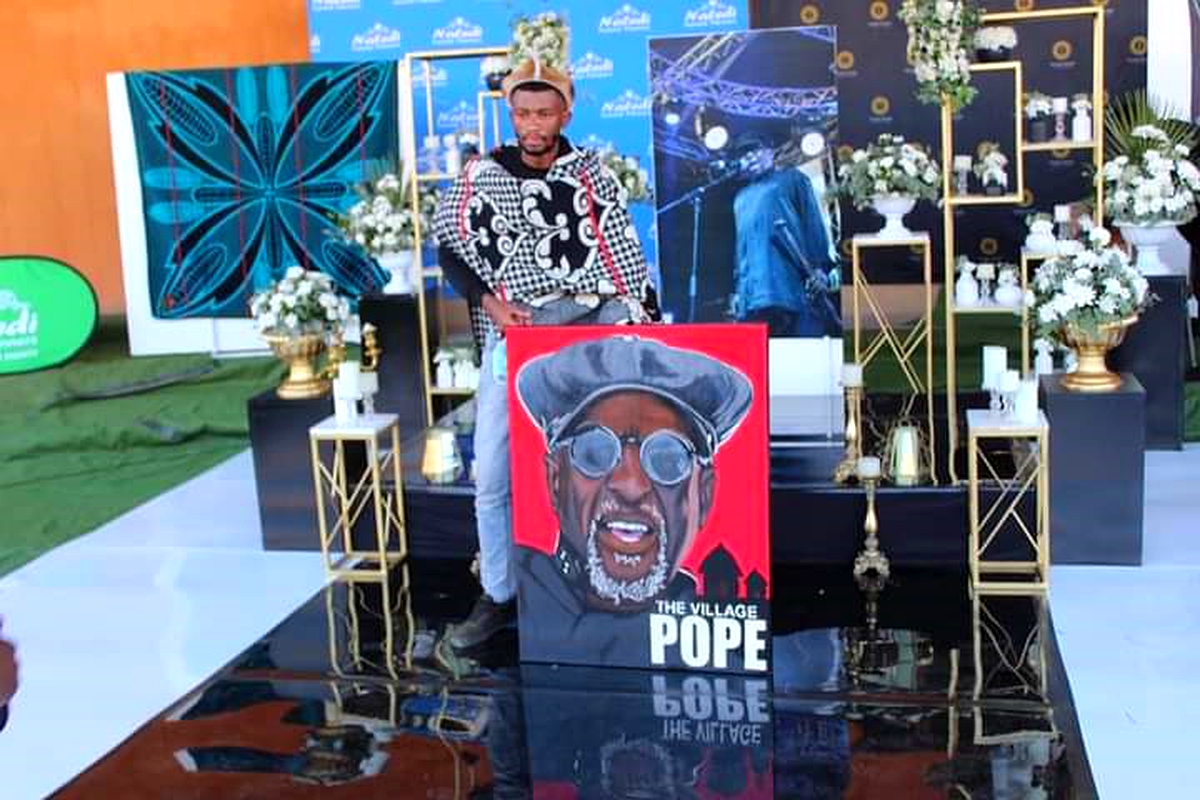 Local artist, Motlatsi Nteko with a portrait of the late jazz icon, Tšepo Tshola he drew
Metro Radio Podcast
Catch our weekly audio broadcast every Friday only on Metro Radio Podcast News.
listen now
ART influences society by changing opinions, instilling values and translating experiences across space and time.
Researches have shown that art affects the fundamental sense of self. Painting, sculpture, music, literature and the other arts forms are often considered to be the repository of a society's collective memory.
"And of course, Art allows us to convey and deal with our emotions. To take a song and play it, is to recreate a moment or represent a feeling, to create a certain atmosphere. Art is what we say without speaking," says Motlatsi Nteko, a local artist who has been largely praised for painting on canvas, an amazing half body image of the late legendary Jazz and gospel singer, Tšepo Tshola.
Canvas is a strong, coarse unbleached cloth made from hemp, flax, or a similar yarn, used to make items such as sails and tents and as a surface for oil painting.
Nteko's art work was also exhibited at Tshola's state funeral held earlier in July at the Thaba-Bosiu Heroes' Acre, as part of honouring the late International icon.
"We are Xysthus Artists and we aim at impacting people's lives through artistic perspectives art that reaches the heart," Nteko says.
He adds: "Look into the canvas, let your body relax, control your breathing, direct or channel your thoughts into remembering Ntate Tshola, allow your mind to recall it all, play one of his tracks through low frequency volumes. Now, you see what art does to your soul? I know you felt that touch and it's okay to cry and let yourself feel the painting's impact. I don't t know why but this drawing also gets me emotional."
The versatile artist who also does hand-sketches on shoes and t-shirts, just to mention a few, says he imagines the Tshola's painting plugged up in a museum.
It has been shown that museums have the power to support artists not just by giving them exhibitions, but by acquiring their work, as well. Through embracing artwork by a diverse group of practitioners, museums can create a more equitable public understanding of art and artists.
The traditional functions of art museums - to collect, preserve, interpret, and present works of art, and to inspire and educate the public—are constantly in flux.
"Then there is this other music video that inspired me into drawing him (Tshola) when he sang "Now or Never".

Enjoy our daily newsletter from today
Access exclusive newsletters, along with previews of new media releases.
"I also remembered an old interview where he said he was proud to be the first Mosotho musician to sing along great men like Bra Hugh Masekela (also late) and attended big music shows in London, United states with his former group, Sankomota. The way he recalled his musical journey hit hard for me," Nteko says.
After purchasing from Nteko the painting of Tshola for M5, 800, this is what the management of Bokamoso FM (974) had to say:
"We can only grow artists if we support their amazing talent. Let's not complain about price yet we buy expensive clothes from people we don't know. We support our own and grow them until they shine like stars. Bokamoso is home to all kinds of artists."

METRO WEATHER FORECAST