news
March 27, 2022
OWN CORRESPONDENT
Five wounded after explosions hit western city of Lviv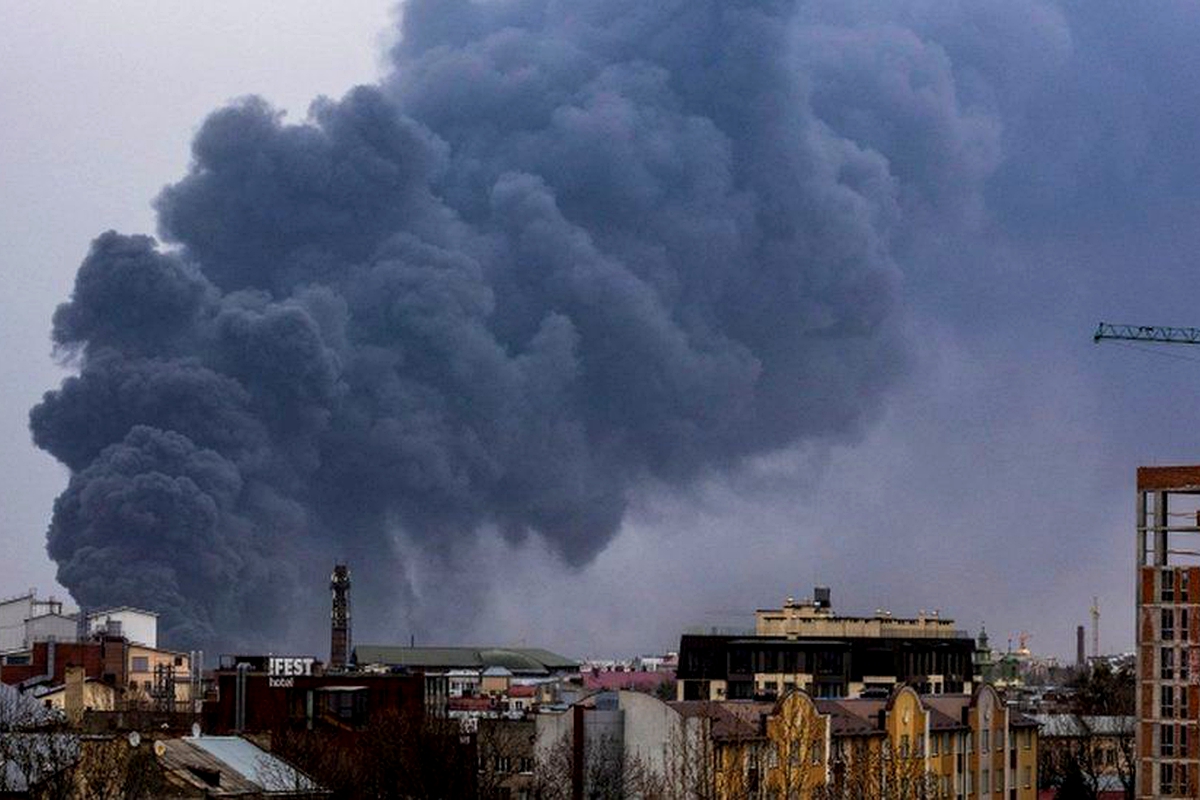 Thick black smoke could be seen rising from area hit on outskirts of Lviv
A rocket fire had hit a fuel storage facility and a factory

Lviv is a hub for hundreds of thousands of refugees fleeing other parts of Ukraine
Metro Audio Articles
Catch our weekly audio news daily only on Metro Radio Podcast News.
listen now
SEVERAL explosions hit the city of Lviv, in western Ukraine, regional officials said.
The governor of the Lviv region, Maksym Kozytskyi, said five people had been injured, and that rocket fire had hit a fuel storage facility and a factory.
Lviv has so far escaped much of the shelling that has come to be a part of daily life in other parts of Ukraine.
It has also become a hub for hundreds of thousands of refugees fleeing other parts of the country.
The alleged Russian attack came as US President Joe Biden delivered a speech in Warsaw, Poland, some 250 miles (400km) from Lviv.
In it, he addressed the Russian people on their leader, President Vladimir Putin, telling them: "For God's sake, this man cannot remain in power."
The Kremlin responded that was not for the US leader to say. "That's not for Biden to decide. The president of Russia is elected by Russians," a spokesman said.
A White House official later said that Mr Biden was not calling for "regime change", but making the point that Vladimir Putin cannot be allowed to exercise power over his neighbours in the region.
Lviv's mayor, Andriy Sadoviy, said that "with today's blows, the aggressor sends greetings to President Biden, who is in Poland," Reuters news agency reports.
Enjoy our daily newsletter from today
Access exclusive newsletters, along with previews of new media releases.
In other developments in Ukraine
The city of Slavutych, where many of Chernobyl's nuclear power plant's workers live, was taken by Russian troops, according to the regional governor. Local residents waved Ukrainian flags and sang patriotic songs in protest.
Russian forces fired at a nuclear research facility in the north-eastern city of Kharkiv, according to Ukraine's parliament. It said it was unable to assess the extent of the damage to the site because of the continued Russian shelling of the city.
Another Russian general, Lt Gen Yakov Rezantsev, was killed in a strike near the southern city of Kherson, said Ukraine's defence ministry. BBC News
METRO WEATHER FORECAST